Location, context, time, and duration
The 3rd instructor training event took place virtually and targeted educators at the Hellenic Open University. The event took place on December 9, 2022. It had a duration of 1 hour and 30 minutes.
Participants
The event was attended by 18 educators of the Hellenic Open University.
Description of activities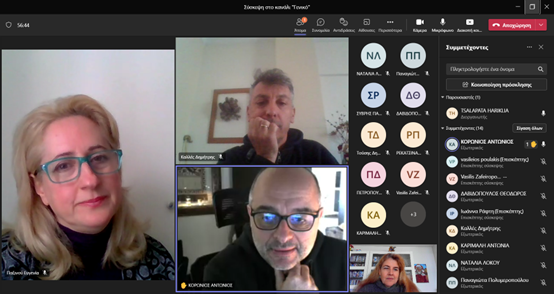 The event started with a presentation of design thinking and its steps, including problem discovery, empathy, problem re-definition, ideation, evaluation of ideas, prototyping, and testing with users. In addition, the audience was exposed to design thinking cases in entrepreneurship and social entrepreneurship as well as had the opportunity to contemplate the deployment of design thinking in order to maximize the benefit of ICT as a tool for addressing business and social issues in the 21st century.
The audience became familiar with the ICT-INOV project objectives, activities, partners, and outcomes, including the development of physical infrastructures, digital services such as the ICT-INOV gamified digital learning platform, learning activities, and community building for promoting the uptake of the proposed learning intervention for promoting innovation skills in ICT.  The audience was also familiarized with the Capacity Building in Higher Education Erasmus+ program.
Subsequently, the audience engaged in a demonstration of the ICT-INOV gamified design thinking platform and its functionality, including the structuring of educational activities, the creation of courses and their association with educational content, the shared workspaces that promote collaboration, the instructor resources, and more. The audience had the opportunity to review course work implemented through the ICT-INOV digital learning platform as examples of the platforms offered capabilities and as good practices.
1.2.4 Feedback and dissemination
The feedback of the audience was overwhelmingly positive. The audience, being members of the Hellenic Open University where classes take place virtually, related immediately to the added value of the proposed ICT-INOV gamified digital learning platform which supports group collaboration in the context of project work, a functionality that is missing from learning management systems that typically only support the sharing of educational content. Educators asked for more resources and reference material, which was provided. The event was disseminated through social media and the internet. Information on the event is available on-line at the address, including the presentation delivered and dissemination links. An attendance list is also available, having been automatically generated by the on-line meeting system.
See the main event presentation
Dissemination
Event presentation on the Creative Technologies Learning Lab portal see more
Event presentation on the Creative Technology Learning Lab social media pages see more