Location, context, time, and duration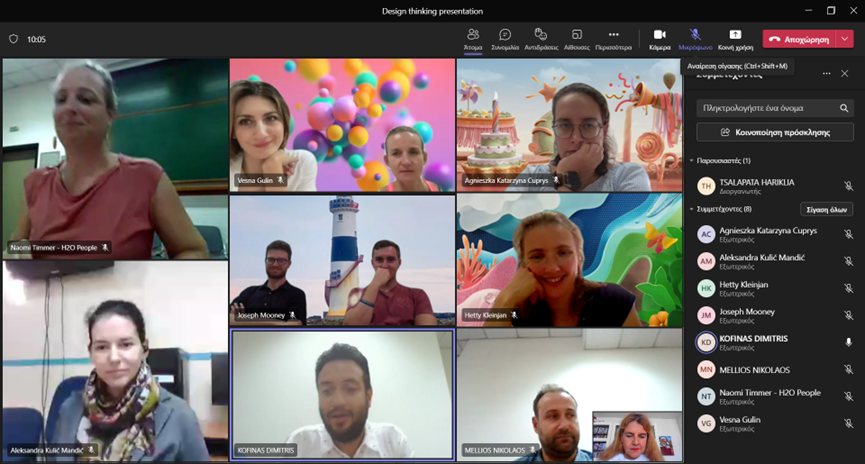 The 2nd instructor training event took place at the Department of Civil Engineering of the University of Thessaly on October 11, 2022. The event took place virtually and had a duration of 2 hours.
Participants
The event was attended by 10 individuals, 2 of whom are educators at the Department of Civil Engineering of the University of Thessaly, while the rest are educators and researchers in academic organizations in the Netherlands, Germany, and Ireland. This can be evidenced from the screenshot of the audience.
Description of activities
The audience had the opportunity to be exposed to design thinking and gamification principles, which are the backbone of the proposed ICT-INOV methodological learning approach for developing innovation skills in higher education. They became familiar with design thinking steps of problem discovery, empathy and user needs analysis, problem re-definition, ideation, prototyping, and evaluation. In addition, the audience was familiarized with specific exercises that can be integrated into design thinking steps. The exercises are available through the resources area of the ICT-INOV digital learning platform. Finally, the audience was exposed to the platform itself through a demo. The platform has been made available for them for use, promoting the uptake of project outcomes beyond the consortium.
Feedback and dissemination
The feedback of the audience was overwhelmingly positive. Participants commented that the proposed learning intervention can be integrated with serious games for building skills in diverse sectors, such as water management and democracy education.
The event was promoted to the audience via email. It was further disseminated through the internet and social media.
Dissemination:
In the Creative Technologies Learning Lab social media pages see more
In the Creative Technologies Learning Lab portal see more